No matter how green your lawn is, if it's not well-designed, you're never going to enjoy it.
While lush, green grass is a part of landscape design, it's not the only part. Incorporating hardscapes, flower vignettes, and garden plantings strategically around your outdoor area can do wonders for your home's curb appeal. Landscape lighting can also play a huge role in setting the right tone.
Plus, having a well-thought-out plan for your front lawn won't just save you time and money during the implementation, but it can also save you water, which ultimately means more green in your pocket. Here are some ideas to get your creative juices flowing and your green thumb in action.
Layering
No, layering isn't just for your fall wardrobe. By pulling in different textures and sizes of plants, you'll give your landscape depth and dimension and add an overall pattern to the space. Plant your taller plants behind your smaller ones to easily achieve this look. For the most structured look, stick with about three layers in your landscape, with each decreasing in height.
Color Placement
Whether you have acres of outdoor living space, an apartment or townhome with a small (10ft. X 10ft.) yard, color placement is a key component to take into consideration when planning any landscape.
A punch of color may be what your garden is lacking. Add a bold color splash with Pretoria Canna Lillies. Tropical climates are best suited for this fast grower; however colder climates can handle this orange flowering lily if planted in a movable pot.
Focal Points
Like any good painting, your lawn needs to have a focal point. What's going to draw people in? Where do you want their eyes to go when they first see it? Most landscape focal points are some sort of water fountain, but here's the time to creative with it, like Stacey from Not Just a Housewife did with these doors.
You can achieve the same goal with a crepe myrtles or a reflecting pond, all while adding more life to your landscape. Crepe myrtles are perfect for most moderate to extreme climates throughout the US and can also add a pop of color (deep purples and rich reds, hot pink and creamy white tones) and soften the look of any lawn. Adding hedges around any tree, as well as a colorful complimentary smaller shrub or plant in front of the hedges, will also give your landscape more depth.
You don't need plants for color
So you want some color, but planting isn't your strong suit. That doesn't mean you have to stick with just green grass and grey rocks, though. Adding color doesn't have to involve gardening or planting. Get the kids involved with this easy to make, DIY Outdoor Chalkboard idea from ApartmentTherapy.com. You can modify the size of the chalkboard to accommodate any size fence or yard.
Don't have a large wall or wall space? Adding a few brightly colored planting pots to a small space is all an outdoor landscape may need.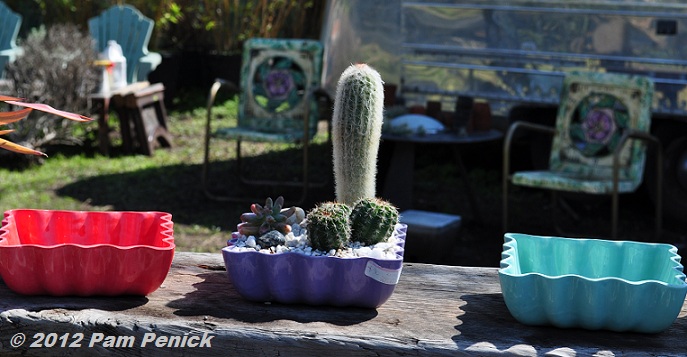 Really want to have something your neighbors don't? Check out these glow in the dark garden pots.
Add Depth to Small Spaces
Smaller outdoor spaces and landscapes can benefit by adding mirrors to the space, giving the appearance of a larger space. This trellis inspired mirror is the perfect DIY project to add depth and magnify color in any yard.
For even more added interest, create a mirror mosaic. Optimize yard space nooks and difficult corners of a yard to decorate, which, in turn, will give you seven years of good luck — or just seven years of an enjoyable space outdoors!
About the Author
Erin Leigh is a writer for Soil2O, a soil amendment from GelTech Solutions that releases 95% of water back into the root zone of plants. Erin is an avid home gardener, despite her tiny town home lawn, and is constantly scouring Pinterest for the best ideas to spruce up her outdoor space.